Click on the name of the pattern to open and print. 
Lottery Blocks!!
Blocks for 2019-2020 will be from Pat Sloan's Winter Solstice quilt
ANY bright crayon color with white. For instance reds with white, or greens with white, or blues with white, you get the idea.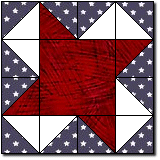 Color it red, white and blue as shown in the picture.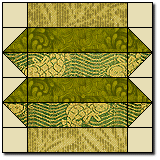 Use 3 shades of blue—light, medium, and dark, with an off white background.
2018 March Lottery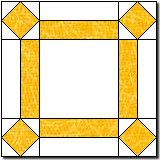 Johnny Around the Corner
Use any bright primary color that reads as solid, with a very white background.
http://www.quilterscache.com/J/JohnnyAroundtheCornerBlock.html


Rosebud
A basic pinwheel in  green, with  red points and pink background
http://www.quilterscache.com/R/RosebudBlock.html


Done in red and white—bright reds, and pure whites
http://www.quilterscache.com/J/JacobsLadderBlock.html

2017 December Lottery
 The block for December is the Goose Creek Block This just looks like a party Very scrappy, anything goes!
http://www.quilterscache.com/G/GooseCreekBlock.html

2017 November Lottery

The block for November is the Maple Leaf block This is a pretty and easy block. Use off-white background and bright fall colors
 http://www.quilterscache.com/M/MapleLeafBlock.html

2017 October Lottery
The block for October is the Lattice Square.  This is a pretty easy block.This is intended to be for a boy so please use dark blue and light blue with a white center.
http://www.quilterscache.com/L/LatticeSquareBlock.html

2017 September Lottery
The block for September is the Rail Fence block:This is a super easy block to get us back into the swing of things.Use any Fall colors - of your own choosing.Find your instructions at this link:
http://www.quilterscache.com/R/RailFenceBlock.html

2017 April Lottery
Totally scrappy! Use what ever colors appeal to you! I have a box of 2" squares that I will bring to the March meeting. Feel free to choose what you want.
2017 March Lottery
Please use a yellow background, either solid or a print that reads as solid. The windmill blades are all HST and can be any brown you like, solid or patterned.
2017 February Lottery:
Using 3 values of green (light, medium and dark) for the block, - as shown
2017 January Lottery: 
And the colors are black with white print for the Anvil, and either white, or white with asmall black print for the background.
2016 December Lottery:
"The Ribbons"
And the colors are red and gold with a white background, and it is almost all half squaretriangles. Easy-Peasy!
2016 November Lottery:
 Using coordinating brights of your choice and 1 striped fabric, 4 6" blocks make up one 12"block! I started with a stripe and then matched up to that., and it took me 1 hour to make 2 blocks. Supereasy.You can make as many blocks as you like, each block gets you 1 chance to win them all. So 2 blocks = 2tickets, 3 blocks = 3 tickets, and so on. Bring your completed 12.5 inch blocks to themeeting on November 8th.
2016 October Lottery:
"Sarah's Choice"
http://www.quilterscache.com/S/SarahsChoiceBlock.html